Sign-In Kiosks to Improve Office Efficiency
Get A Better Sign In Sheet!
Check In Systems are a great way to improve customer service and reduce reception overhead. Our Check-In kiosks use an Apple iPad, an Android tablet or a touch screen PC to replace the paper sign in sheet. Customers will sign in and directly notify a person or department without interrupting anyone. The sign-in process is fast, easy and your staff is notified instantly. This reduces your customer service response time, improving the customer experience. Your staff knows the person's name and exactly what they need even before they greet them.
---
---
Touch Screens are the latest technology to improve Customer Service!
You can replace the sign in sheet with an Apple iPad, Android based tablet or touch PC for a low cost, efficient Check-In System. When your customer signs in, they instantly notify your staff without interrupting anyone. The information is automatically sorted, then presented on existing office computers. Your staff can then respond faster, having the needs of the person up front. Customer information is stored for long term statistics and reporting giving management valuable documentation as to workloads and trends.
Apple iPads make great electronic sign-in sheets!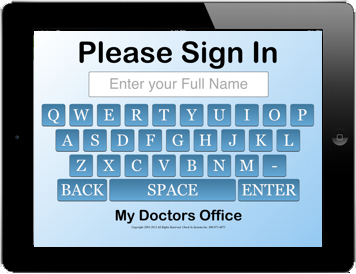 The Apple iPad is a very stable and low maintenence touch screen that everyone is familiar with. Customers are familiar with the touch and feel of cell phones and tablets. This means they have no reservation about using it. We frame it in a secure kiosk stand and it can be mounted on the wall, set on the counter top or used as a stand alone kiosk.
IT staff will love the low maintenance and top security of the IOS platform. Since there is no data stored on the device, the security risk is at it's lowest. If it breaks, it is easy and cheap to replace compared to full blown PC based kiosk systems.
Get more from your sign-in sheet
An
electronic sign-in sheet
saves all your data and gives you long term reporting abilities. After all, computers are supposed to make the job easier. With a database of names, dates and timestamps the kiosk can produce valuable reports about traffic flow, wait times, customer needs and staff performance. How would you like to know the average wait time or time to service a specific customer need? With a customer check-in system, its a simple report.
Check In Systems Products
Medical Check-In is designed to reduce interruptions and paper while meeting HIPAA Compliance. Having a patient kiosk allows your patients to sign in at the door instead of the counter where your receptionist may be having a private conversation with another patient. Furthermore, your sign-in sheet information is stored for long term reporting and management reports. With this information, you can track patient traffic, office efficiency and staff performance.
Software Developer:
Check In Systems
Version:
Medical Check-In
399.00 Annual Subscription
---
Every retail business that serves customers as they walk in, needs a method of organizing the customers. Faster is better wen it comes to the customer experience. A sign-in system sorts the customers by department and need. Your employees can respond quicker if they are notified directly. Don't forget the valuable reports that a Check In system can provide. Having statistics of customers needs compared to date and time stamps can document traffic flow, staff needs, and performance.
Software Developer:
Check In Systems
399.00 Annual Subscription
---
College admissions is a seasonal and a very busy time. Organization is essential to serving the volume of students. With a Check In System, students are accurately time stamped, sorted and directly presented to the proper department or staff member. The sorting helps staff get to their customers faster and distribute the workload. Do you know exactly what days, hours and departments are the busiest? And do you have documentation to show it? Student Check-In provides the documentation you need to make your office more efficient and meet your budget.
Software Developer:
Check In Systems
Version:
Student Check-In
399.00 Annual Subscription
---
With so many departments within, the Department of Social Services covers a lot of needs. When you visitors arrive they sign in and choose the department and reason for their visit. This information is sorted into queues and your staff can respond directly without sifting through visitors that don't apply to them. Break down the visitors into departments and you have a much more organized list of visitors. Track your office with statistical reports and documentation to help meet your budget.
Software Developer:
Check In Systems
399.00 Annual Subscription
---
VA Check-In
Software Developer:
Check In Systems
399.00 Annual Subscription
Volume. Separate the veterans into queues and you have an organized list that is much easier to serve. Each department can be notified directly and respond quicker to the needs of veterans. VA Check In is an independent sign-in system that gives real time and historical statistics about visitors. It is already used is several locations and can be running in just minutes.
---
Probation Check-In
helps reduce the overhead of a receptionist in both large and small offices. With a securely mounted Apple iPad, your offenders can sign in and directly notify an officer that they are waiting in the lobby. The queue also handles offenders coming from court or jail. The system is can be configured to meet your needs, big and small. Documentation is kept for years giving you court ready data when you need it.
Software Developer:
Check In Systems
Version:
Probation Check-In
399.00 Annual Subscription