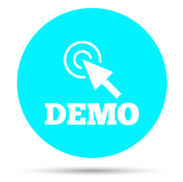 Try our Demo!
Schedule a 15 minute Live Demonstration Call
We are happy to give you a personalized, online demonstration. We'll show you all the features and answer any questions you may have. If you think the system might fit your needs, we'll give you a free 14 day trial of the complete Check In System with no obligations. By the end of the demo, you will be up and running with your free trial.
Click Here to schedule a demo call
---
Self Guided Demo
If you would like to take a quick look on your own, feel free to log in to any of our systems using the demo user id.
At the login page, Use "demo" in all three boxes.
To login, go to one of the following;
---
If you already have an iPad ...
You can also download our app from the app store and connect to your favorite system. This will allow you to see how the kiosk looks and interacts with the back end.
To connect an iPad;
Go to the App Store on your Apple iPad
In the upper right box, Search for the app of your choice
Install it & Run it
The entries will be sent from the app to the secure server where you can review using the displays.